Now Serving Frozen Pup Treats!
Posted on August 7, 2019 by Annette No comments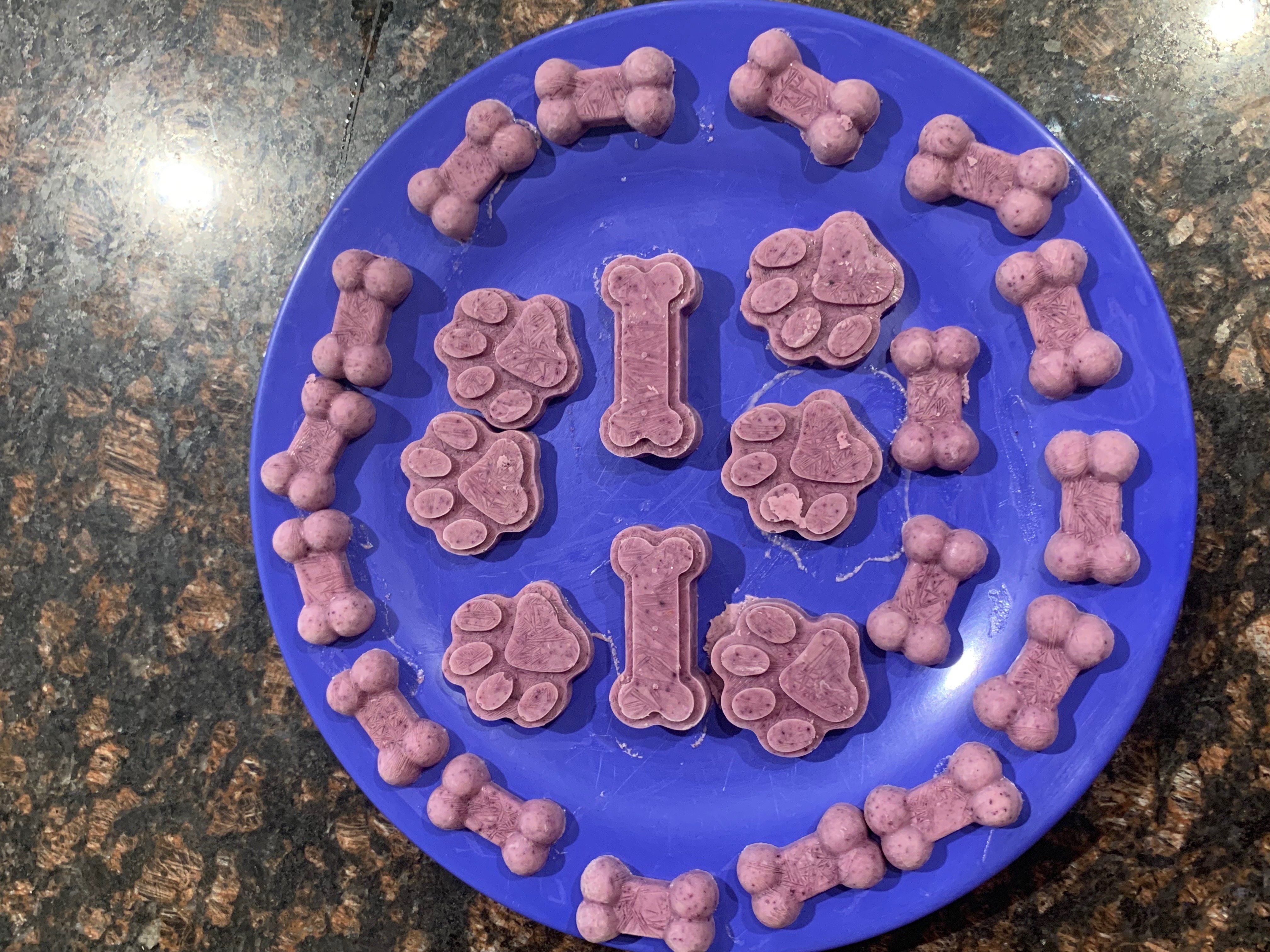 Summer is here!! As it gets warmer, there's more outdoor fun to be had; park play, beach outings and backyard BBQs. It's all so much better with our furry friends, but as it gets hotter, it's easier for our furries to get overheated and dehydrated. That's when our pups deserve a frozen treat!! 
Frozen doggy treats are a great way to keep your dog hydrated, plus they are fun to make!! All the ingredients you need are probably already in your fridge and freezer. The possibilities are endless! 
Why make your own homemade dog treats? It's easier than you think and more affordable than store bought ones. Also, you can be sure that all the ingredients are safe and free from all the scary fillers in commercially made treats. Dogs thrive on whole foods just like humans do. 
Let's get started with some easy recipes…
Supplies and Ingredients Needed: Ice cube trays or molds and 2-cup measuring glass

Blueberry Yogurt Frozen Dog Treats
Blender or food processor
Unsweetened frozen blueberries
Plain yogurt 
Peanut Butter (check ingredients, look for no sugar or artificial sweeteners)
Water
Blend together 4 ounces of yogurt and 4 ounces of water for the base. Add the frozen fruit and blend again. Pour into your mold (ice cube trays or doggy shaped wells) leaving a generous amount for the blueberries. The pupsicle will expand as it freezes. 

Frosty Peanut Butter Pupsicles
Put 4 ounces peanut butter in your liquid measuring cup
Add 3 ounces of water and 2 ounces of yogurt to reach 9 ounces
Pour into your molds and freeze
Frozen Strawberry Yogurt Doggy Treats
Add a handful of frozen strawberries to the blender (aim for 4-6)
Add 2 ounces of yogurt and 2 ounces of water
Blend, adding water if needed. 
Pour into molds and freeze
Frozen Banana Bites
1 banana
1 cup pineapple * (or any other dog safe unsweetened fruit)
Puree a cup and a half of watermelon and set aside
Puree a cup of pineapple and set aside
Slice the banana into 24 pieces
Place one banana slice into each mold (or ice cube tray)
Top each banana slice with 2 tablespoons of watermelon puree
Top off each mold well with a layer of pineapple puree
Freeze for 4 hours

That's it!!! Now you have several yummy cool treats for your pup, and the best part is you can have some too!!! You can substitute ingredients too like pumpkin for peanut butter, green beans for berries, carrots for apples. Your furry will appreciate the cool treat.